Left is a design and technology studio in Vienna. We empower businesses and design teams to enhance their communication with custom design solutions, motion graphics, 3D, and websites.
What sets us apart is our extensive experience in design and branding, coupled with a strong technical expertise to bring digital productions to life.
More specific:
Who is Left?
Left gathers designers of various kinds under one roof.
What kind of Designers are working for Left?
The handpicked team combines both experience and passion for graphic design and artdirection with a broad skillset in 3d, animation and coding to ensure that the visual output meets both aesthetic and functional requirements. We call this Visual Engineering.
What is your Style?
Our output is quite diverse. We do not represent one typical style — it's always about the one style that matches best with the Clients specifications and needs.
What exactly are your technical capabilities, what can Left deliver?
For CGI and Animations our production stack includes Cinema 4d with Redshift render engine, Unreal Engine, Adobe Aftereffects, Premiere and DaVinci Resolve. We produce and/or edit the sound layers with Logic Pro and Ableton. We deliver all sorts of image and video formats.
For websites or custom website assets we build our setups from the very base with Html, CSS and Javascript with a wide set of dedicated libraries. With this setup we are able to deliver entire websites, driven mostly by our CMS of choice, the beautiful Craft CMS. We do not provide our own servers but we are working closely with world4you for webhosting, mail-setups and domain registration. We can take care of the whole stack.
Where is Left located?
We are working mostly on-site at the beautiful Nestroyhof in Viennas 2nd district. We share ore office with our good friends hammeralbrecht.
Our office at the Nestroyhof at Nestroyplatz 1/34, 1020 Vienna (Foto Matthias Aschauer)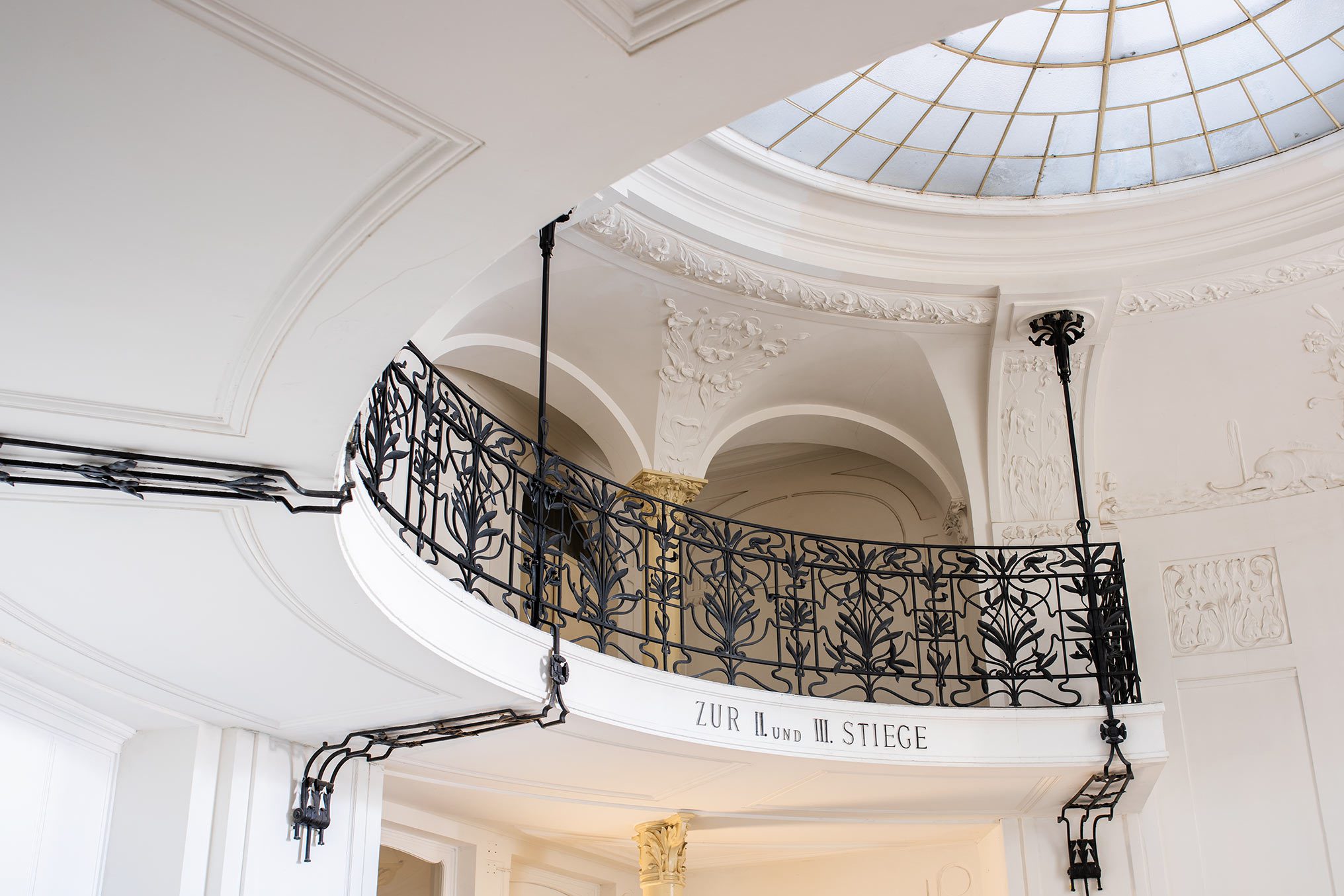 Make sure to catch the right staircase #3 (Foto Matthias Aschauer)
Why are you doing all this?
Tobi: This is a long one. It was constant curiousity about how things work that forced me to take a deeper look behind the technical curtain. I learned 3d and animation. And Once I discovered that I could harness conditions and algorithms to drive all visual disciplines, I started to enhance and refine my coding skills.
Throughout my professional career as a designer and Art Director, I frequently observed a significant gap in understanding between designers and tech experts that are hired to make things work and/or move. I have learned that people are happy with me taking design tasks related to this gap. So I founded left and started building a dedicated team to work even more specifically and efficient.
We love creating and refining visual und interactive ideas together with our clients and take responsibility for the design process all the way through to the final rollout.
And who is your preferred client, who should get in touch with a project inquiry
We can help every brand or institution who needs any visualization (still, motion, 3d or interactive). Most expertise from previous work tho we got with clients from the industrial or cultural sector — either directly, or in collaboration with agencies and design firms.
This sounds nice. Can you. help me with …